petr.smil@gmail.com, +420 733 582 848, FB, LinkedIn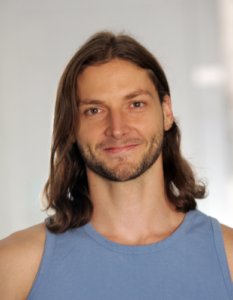 I used to practice Ashtanga Vinyasa Yoga daily since 2002. From primary series to secondary and slowly into the 3rd series, I was more and more interested in the topics of breath, its relation to the movement and pranayama & meditation in general.
In 2007, during my first visit to Mysore (South India), I met Vinay Kumar, who had just started to introduce western students into his unique asana sequence called "Prana Vashya Yoga". Although he was almost unknown among the western students coming to Mysore, he himself was already recognized as an experienced yoga practitioner, many times winning "Champion of champions" title in all India asana competions during his teens (visit www.pranavashya.com for more information).
Although my first study with him lasted only for one month, it completely transformed not only my spine, but my view on asana & pranayama as well. I found his approach to yoga inspiring as well as his modesty and passion for teaching.
During my following visits to India I focused only on Prana Vashya Yoga. In January 2009 I finished Prana Vashya Yoga Teachers Training as a second European certified to introduce other practitioners into this profound yoga practice.
Since then I have taught Prana Vashya Yoga to thousands of people. In order to do it effectively, I gradually developed comprehensive methodology allowing me to teach Prana Vashya to people of all levels including complete beginners.
Although my own asana practice is still quite intense, I no longer practice asana in a gymnastic way. For me asana is just a beginning, a tool for preparing the bodymind before diving deeper within oneself. I am interested in using breath & awareness for entering altered states of consciousness, so it can slowly unfold and reveal its secrets.
In addition to public and private asana & pranayama classes, I organize workshops on various yoga topics and manage yogastudio Jemný svět (i.e. Subtle World), which I found in Prague, Czech republic.
Apart from yoga and teaching, I usually spend my time  with my family (wife & two kids), preferably somewhere in the nature doing either rock climbing, mountaineering or freediving.